Philadelphia International Airport (PHL) & Philadelphia Center City Hotel Shuttles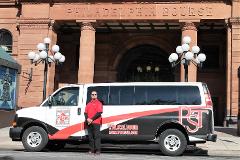 天數: 20 分鐘
位置: Philadelphia, PA
产品编号: PCDCVZ
Know Before You Book:
Wheelchair accessibility is limited.
Infant seats are the traveler's responsibility. Children must be seated in a size-appropriate safety restraint, per local law.
1 standard-size bag and 1 carry-on bag are allowed per person.
Additional and overweight baggage (such as surfboards, golf clubs, bicycles, etc.) is subject to space availability and may incur an extra surcharge, which is payable to your driver at the time of service.
Partial cancellation is not available for roundtrip transfers.
You can cancel free of charge until 72 hours before your reservation starts. After that time, no cancellations, changes or refunds will be made.